A truly bespoke commission service – own a beautiful still life of your or your loved ones' special mementos! No matter whether you prefer realistic, classical art, or a more contemporary, even abstract look, your sentimental belongings can fit onto the canvas, taking no more than a bit of wall space in your home.
Decluttering, downsizing, emigrating, moving into a home, or simply choosing to live in a more minimalistic way might all present you with the conflict of having to part with mementos which are hard to let go.  So, why not let me paint them for you as one single piece of art you can take with you wherever you go, in a style you would like. Oil on canvas, or in mixed media on a variety of surfaces, so much is possible! And, of course it would make a wonderful gift for a an elderly relative or a family member living abroad!
Just get in touch to see how between us we can make it happen.
Example from 'stage set' to still life: 
Stage one– photograph of arrangement of items in daylight, with black back drop.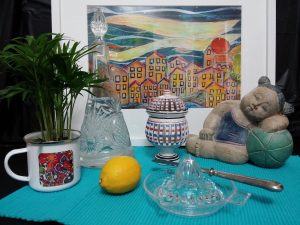 Stage two– guide photograph, at night in this case, with controlled light and lit candle.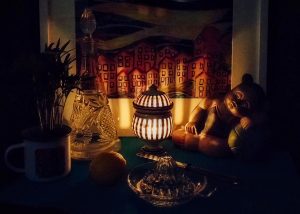 Stage three – Finished oil on canvas artwork, a few weeks later. This painting is on the larger size of 50x70cm/20″x28″, a very good size for a good still life. A painting like this example, with so much detail, would be priced at  £675.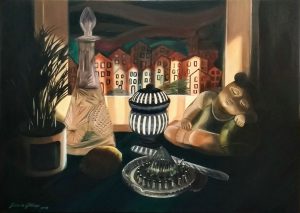 Please don't hesitate to contact me for further enquiries. Confidentiality assured.