Your much loved personal treasures around you mean home and special memories. Sometimes still life art may leave us cold, as the objects, however beautifully painted, carry no meaning for us. But a work of art made up your own belongings, think how meaningful that could be for you or loved ones for years to come. Let me paint them for you, as an artistically, tastefully arranged, realistic still life, oil on canvas, which can move with you wherever you go. 
The older I get the more experience I have of friends and family having to downsize for various reasons. We all surround ourselves with sentimental value items that make our place a home, things that connect us to memories with our parents, spouses, children, siblings, friends, pets. It's not often talked about how hard it is to let such things go, however much logic, need, even fashion dictate it. We hear the well-meaning advice over and over again, that things are just things, get rid, you don't need them. But sometimes we don't want to lose the memories attached to them, and it's heartbreaking to know we have to be sensible. It seems soulless, cold, insensitive, disloyal even.
But what if we could turn all those things into a work of original art on canvas you could take with you anywhere? What if you could choose those cherished items, and together we went about setting them up as a still life for me to paint for you? Realistically painted in oils on canvass, not just retaining those memories for you, but also infused with a new memory of being involved in making this artwork happen. Arranged in such a way that fills you with delight every time you look at it instead of being filled with sadness that they are no longer in your life? Wouldn't that be wonderful? 
To give you some ideas – a favourite table cloth, a watch, a vase, a clock, a teapot, cufflinks, a tie, some glasses, a favourite cup or mug, holiday souvenirs, wedding gifts, ornaments, a lantern, an umbrella, a didgeridoo, a christening spoon, toys, tools, a pair of shoes, pet collar,  belt, braces, shorts, bottles, a photo… everything is possible. 
Example from 'stage set' to still life: 
Stage one – photograph of arrangement of items in daylight, with black back drop.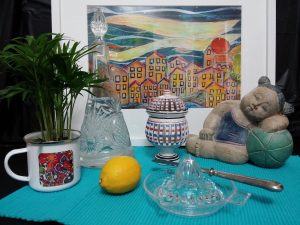 Stage two – guide photograph, at night in this case, with controlled light and lit candle.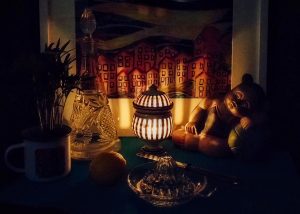 Stage three: Finished oil on canvas artwork, a few weeks later. This painting is on the larger size of 50x70cm/20″x28″, a very good size for a good still life. A painting like this would be at the £650 mark.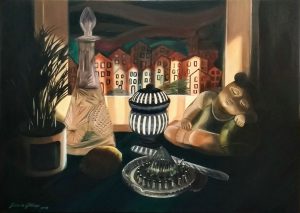 Please don't hesitate to contact me for further enquiries. Confidentiality assured.